Well this is pretty cool, my fellow men and women!
According to Progress City USA, everyone's favorite directing duo, John Musker and Ron Clements are doing an animated adaption of Terry Pratchett's Mort for Disney. I KNOW RIGHT!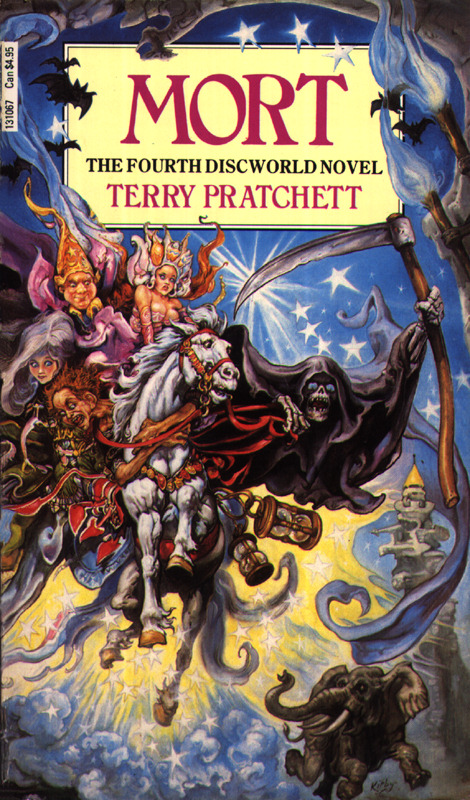 Now many of you may not know this, but my favorite author is Sir Terry Pratchett. Discworld has GOT to be the greatest fantasy series in the world, right next to Harry Potter and Lord of the Rings. Where Lord of the Rings has this down-to-earth, intricate fantasy element and Harry Potter has fantasy for the heart, Discworld has a comical and satirical sense. A lot of the plots and elements of the story are a mixture of some form of popular history and fairy tale. For example, there are guilds in the city of Ankh-Morpork just like there were guilds in India back in them olden days, but in Ankh-Morpork, they have guilds for EVERYTHING. Guilds for assassins, thieves, tourism, seamstresses (aka "women of negotiable affections"), beggars, etc. There's a character there who's a mix of Leonardo da Vinci and the founder of modern aeronautics, Sir George Cayley.
Now I think that this would be a great film for Ron and John ta do since the story is so timeless. But I also have some doubts. While novels can go on forever, films have a set amount of time to show everything. If they do adapt the movie, they'll probably have to cut out a couple of things. They did so with the live-action Discworld movies. Good thing they chose one of the shortest Discworld novels to adapt. Second of all, I'm scared it'll turn out like The Black Cauldron with a bunch of heartless and unempathetic characters. They need to find some way to make the romance between Mort and Ysabell seem more genuine and show the development of their affections toward each other. Also, Death HAS to be funny. He HAS be to portrayed as this awesome and cool guy because that's who he is. Don't make him like any other grim reaper, give him a personality filled full of curiosity towards human life. That's Death.
Having said that, I wish John Musker and Ron Clements the best of luck. If there's anyone that I can trust with this project, it'll be the directors of The Little Mermaid and Aladdin. Aaand if it turns out to be nothing more than just some lame rumor, then I hope that rumor-spreading guy will get explosive diarrhea. Be Fantasmic!